West Virginia Business Built on Hard Work and Good Plans
Beth and David Rheuark are living proof of how great plans can come to fruition.  This West Virginia couple turned shelf plans and other wood working projects into a thriving local business.  Like the best book shelves, this couple is sturdy, reliable, and strong.
The Rhuearks's shop, Hillbilly Woodworks, features handmade cedar chests, decorative shelves, benches, custom cabinets, and much more.  Owning a retail shop had been a longtime dream of the couple.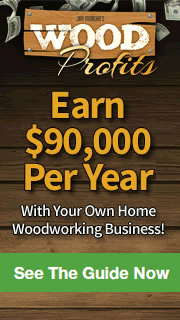 They made it a reality when David returned from a military hospital after suffering an injury in the second Gulf War.  A veteran of both wars, David, and his wife, Beth, decided that there was no time like the present to start working on their goal.
Just like you would follow a set of well-drafted shelf plans, Beth and David followed their plans, which included fixing up a dilapidated old building and turning it into a shop worthy of their great handiwork.  When they first saw the location, Beth thought it was a little beyond help, but David was able to see the end product, as well as each step in the process to help it become what they wanted.  With as much care and attention as they put into each of their decorative shelves, cabinets, and chests, the Rhuearks transformed this rundown store into a beautiful shop.
The meticulous attention to detail and passion that the best woodworkers bring to their craft is exactly the qualities that helped David and Beth achieve a lifelong dream.  The lesson for all of us?  Whether our goal is to build a gorgeous set of decorative shelves or to scale Mount Everest, we have to start with a good set of plans.  From there, we can make anything possible if we go step by step and keep working.
Other articles you might like;
Filed under: Decorative Shelves • Shelf Plans